Sale!
How to Make Your Sales Sizzle in 17 Days (Digital Copy)
HOW TO MAKE YOUR SALES SIZZLE IN 17 DAYS
By Elmer Wheeler
At last; All the secrets of Elmer Wheeler's famous selling method — in a brand -new kind of book. Here is "Mr. Salesman's" tested, streamlined formula for successful selling.
Each day for 17 days you get a tested Elmer Wheeler sales formula…an idea-a-day to use in your work in closing sales, meeting objections, and every other phase of successful selling techniques.
Some of the valuable points you'll learn in this book:
WHAT MAKES PEOPLE BUY
Wheeler shows you a unique way to twist any appeal into one of your strongest selling points — and how to build a sales talk around the prospects human desires.
HOW TO FIND YOUR MAIN SELLING POINT — THE SELLING SIZZLE
a sizzle is the tang in the cheese, the crunch in the cracker, the whiff in the coffee — that's what people buy, and here's practical help in giving your product "sizzle appeal."
PUTTING YOUR SIZZLE INTO 10-SECOND SELLING WALLOPS — YOUR APPROACH
your first 10 words are more important than your next 10,000. Here's the way to express your sizzles in 10-second language.
HOW TO USE "TESTED SELLING SENTENCES" TO WARM UP PROSPECTS
Your tested approach will get the sales underway, but then it takes many sure-fire words to warm-up the sale to the buying point. Here's how to build your own "sizzle laboratory" to keep your sales moving fast.
OBJECTIONS — HOW TO OVERCOME THEM EFFECTIVELY
objections usually indicate that the prospect wants more facts. Here are tested ways to line up the prospect behind one main objection as it comes up and how to wallop the props from under it.
ELMER WHEELER'S MASTER SIZZLE CATALOG
here are 2,000 prize-winning sizzles developed in Elmer Wheeler's Word Laboratory that have sold millions of dollars worth of merchandise. Let him show you how they can work for you.
Description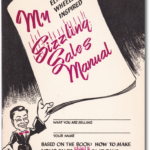 Includes the pullout "My Sizzling Sales Manual" to help you develop your own Sizzling Sales Manual.